Machine Tool & Measurement Systems Business
From machining to measuring
KURODA supports manufacturing as a total solution provider of precision measurement and machining.
The "Machine Tool & Measurement systems business" results from the combination of precision grinding and precision measurement, the core technologies of KURODA.
The "precision" related total solution for processes, which range from grinding to measuring is supported by two pillars: the "machine tools system", which combines the measurement technology accumulated by manufacturing gauges, KURODA's original business, with machine tools that deliver high-precision, high-performance grinding by using proprietary precision technology, and the "special tools system" which supports all kinds of processes.
Machine tools system business
KURODA machine tools, with a proven track record and currently known for their high performance and reliability, were first developed to satisfy KURODA's own needs for manufacturing dies.
KURODA supports industrial advancement all over the world by providing high value-added grinding machines created by combining its own technologies, such as grinding machines using KURODA ball screws and spindles to enhance tracking performance and precision, or those developed by combining KURODA measuring systems with KURODA special jigs.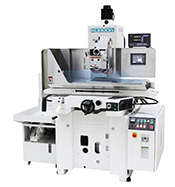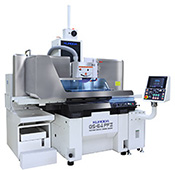 Polishing Machine
Special Grinding Machine
Grinding Wheel
Surface Configuration Measuring system
Special tools system business
KURODA special tools, which combine various technologies born from the craftsman's DNA that runs in the company and dictates to "create the things you need by your own", support all kinds of processes, from forming, grinding, and assembly to inspection.
Hydraulic Tool
Test Bar
Clamping Force Tester / Clamping Unit
Gauge Calibration Service
Special Processing/ Inspection Tool and Jig