NEW: Bidirectional Actuator
Realizes Symmetrical Back-and-Forth Motion
By simultaneously using left and right screw threads in the actuator`s drive component, symmetrical back-and-forth motion is achieved.
Enables simplified, compact design by performing both the opening and closing functions of a gripping mechanism with a single actuator.
Features
Enables design regardless of mounting posture.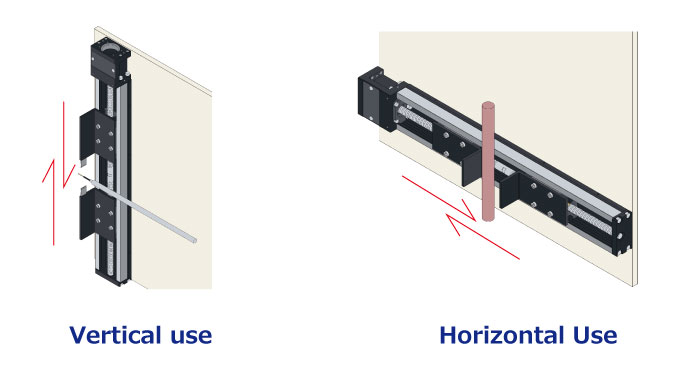 Equipped with manual adjustment handle.
A manual adjustment handle is provided for convenient screw shaft rotation. It can be used to check the position and/or operation of the slide block during equipment assembly ect.
Performance / Specifications
Model No.
Maximum Stroke

Repeated Positioning Accuracy
(mm)

⊚:Standard Product

♦:Custom Product

SE2305B-250B-****-*S

20

±0.010

◎

SE2305B-300B-****-*S

70

◎

SE3005B-400Z-****-*S

100

♦

SG2605B-300Z-****-*S

70

±0.005

♦

SG3310B-400Z-****-*S

100

♦
Grease: KURODA S Grease