Hydraulic Tools
High precision grip with runout accuracy of "1μm"
Superior accuracy allows for a wide range of applications spanning from forming processes to inspection.
Hydraulic tools are tools to hold workpieces (products, tools, etc.) by taking advantage of the metallic deformation (elastic deformation) in thin cylindrical portions as a result of static hydraulic pressure.
By making use of "Pascal's principle", small force is applied to generate a large force capable of inflating metal bodies as if they were balloons.
With hydraulic tools, a thin, metal cylinder is expanded by making use of the elastic deformation to transmit the power to hold the workpiece.
There are two types of hydraulic tools:
• "Hydraulic mandrel", where the outside diameter expands to hold workpieces in the shape of a hole
• "Hydraulic chuck", where the inside diameter contracts to hold workpieces in the shape of an axis

Features
High runout accuracy and repeat accuracy
Total contact on average is possible because the metal cylinder making contact with the workpiece is a surface, and also because the holding power is transmitted uniformly due to Pascal's principle.
"Foolproof and easy-to-operate" high-precision clamp operable by using only one wrench
Turning the operating screw with a wrench is all you need to use the foolproof and easy-to-operate stable, high-precision clamp. Training time and training cost can be saved since burden on operators is reduced even in processes requiring high skills.
Usable in a wide range of applications spanning from machining to measurement and instrumentation
These tools can be used in forming processes such as turning, milling, machining, and combined machining to finishing processes such as cylindrical grinding, internal grinding, and honing, as assembly tools, as well as inspection tools.
Custom specifications and shapes for specific use
We accept orders to manufacture tools for specific workpieces and/or purposes.
Exterior configuration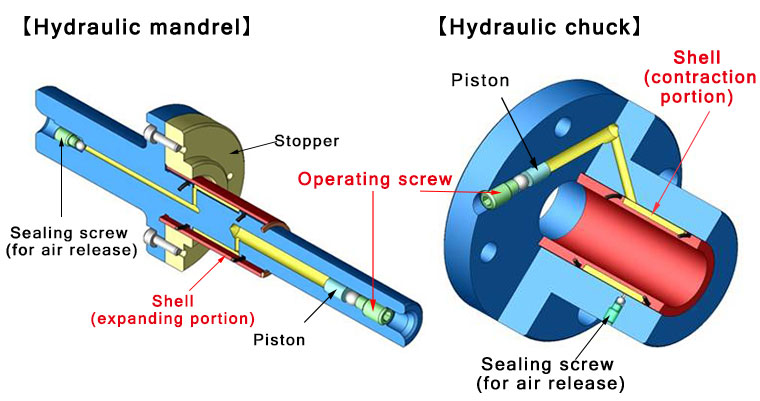 Ordering Number
| Item | Contents |
| --- | --- |
| Runout accuracy | 5μm or less |
| Workpieces dia. | φ6~ |
| Operating mode | Manual or automatic |
Because it is an order item, it may differ from the actual specification.
Example
Forming
For workpiece positioning, precision chucking, and low-deformation workpiece clamping in

Machining centres
NC turning
Special/dedicated machines and tools, etc.
Grinding
For workpiece positioning, precision chucking, and low-deformation workpiece clamping for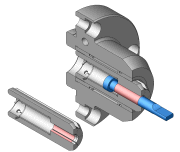 Cylindrical grinding
Internal grinding
Surface grinding, etc.
Inspection and measurement
For precision, operator-independent measurement with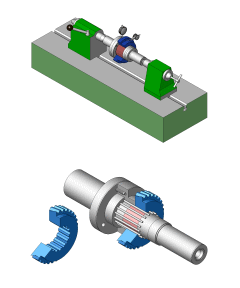 Centre table
Gear measuring instrument, etc.