Precision metal press products Glue FASTEC®
Significantly improves energy efficiency of motors.
Compared with the widely used dowel cores, Glue FASTEC® cores produce less iron loss (eddy-current loss and hysteresis loss). (Iron loss reduction by 10% or more)
Less core loss means less energy loss.
Furthermore, since stacking is done by applying glue, it can also be used for very thin metal sheet products.
They are ideal for thin metal sheet laminate products such as motor cores for hybrid car drives and other high-efficiency motor cores, and electronic components such as solenoids and reactors.

Features
Keeps iron loss and heat generation to the minimum.
Suitable for stacking thin/hard materials.
Keeps the vibration at rotation low.
Smooth stacking reduces wind noise.
Longer motor life due to good cooling performance.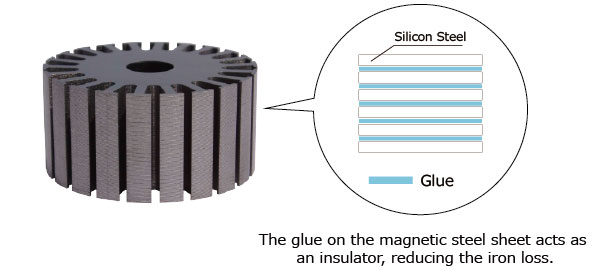 Record of Awards
Super Manufacturing Automotive Parts Award sponsored by Nikkan Kogyo Shimbun
Japan Excellent Manufacturing Technology Award sponsored by METI