What peripheral elements are necessary to make a ball screw work? (2)
The following explains the bearing, an element that is always required when using a ball screw. Generally, bearings used with ball screws are assembled in a housing similar to that shown in the picture below.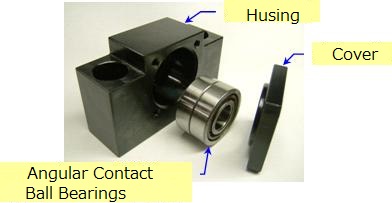 Bearings can be roughly classified into radial bearings and thrust bearings, each of which has a ball bearing and a roller bearing.
In typical uses of the ball screw, the radial ball bearing is used primarily not to adversely affect the ball screw operating performance.
Regarding the type of bearing best suited to support the ball screw shaft, the ball screw must be able to
• Receive force and provide thrust
• Perform positioning by repetitive operation
• Support the ball screw's own weight
in the axial direction.
Since the chosen bearing must be capable of receiving radial load, axial load, as well as a combination of these two, the angular contact ball bearing and deep groove ball bearing are the most suitable.
For the method of mounting the screw shaft to a bearing, see the attached material since it varies depending on the operating specifications and accuracy required for the machine or equipment.
* In the table, "Fixed" means angular contact ball bearing and "Supported" means deep groove ball bearing.